This year's MVE meeting focuses on human day-to-day life and individual life histories. Daily routines, work and movement, the psychic und physical demands of different ways of life and different phases of life, and their variability are significant aspects of human evolution.
Our evolution is the history of our work. Every day, all its life, an animal is busy with food acquisition, social and reproductive work, and regeneration. In humans, the proportions of each of these tasks in a day's routine, the kind of activities, the respective energetic expenditure, and the cognitive, emotional and physical demands involved vary greatly - over the course of human history, between different groups, between different individuals and in different phases of life. What are the human-specific essential patterns and how do they contribute to the interaction of biocultural evolution?
What do we know about day-to-day-life in the history of human-environment interaction, about work, leisure and rest, about working and regeneration times and workloads, about psychic and physical demands and health, about posture and motor skills, mobility or radii of action? How do work rhythms and biological rhythms interact? Which aspects of daily activity in different phases of life of an individual leave permanent traces in the body? What is the explanatory potential offered by new approaches and methods, e. g. in genetics and epigenetics, or the integration of actor-centered concepts into the analysis of evolutionary processes? What are the connections between the characteristics of everyday life, life cycle and ontogeny? Which part does cultural variability play in this context? What are the effects of differences in challenges across specific phases of life such as childhood and youth, or pregnancy? How do cognitive and motor development interact? Which cognitive, emotional, and social processes accompany and affect work and movement? What role do communication, co-operation and division of labor play? And, last but not least, how does our evolutionary make-up make itself felt under contemporary conditions of everyday life and work?
We hope for a broad range of subjects and insights into current research from various disciplines!
As always, submissions from all other areas of the evolutionary behavioral sciences are welcome.
We look forward to your contributions!

A special session at this year's meeting will focus on methodological concerns. Following the guiding question "Whom and what do we study, ... and how, ... and whom and what do we not study?" we particularly want to discuss the interpretive claims, significance and possible biases of common methodological practice in the scientific disciplines working with humans.
Possible topics are basic methodological questions or problems arising from specific methods in research, such as: characterization and demarcation of units of investigation; the significance of cross-cultural research and problems related to it; the reception of methodological deficiencies and the scope of their impact; research artefacts due to ethnocentrism and gender bias; authenticity in field work and laboratory research; sample representativeness; problems emerging from online research and internet analyses; research obstacles such as intercultural misinterpretation, purposeful research or hidden agendas, ethical considerations, and alike.
We see this session as a colloquium-like forum for open discussion including both the presentation of topics and the opportunity to discuss methodological issues from your own research. Key subjects of debate will arise from the submitted contributions. Presentations should be in PechaKucha format (max. 20 slides, 20 sec. each), so that there will be enough time for discussion.
We look forward to your contributions!

Registration for the conference is now possible. Before registering for the conference, please first become a member of the MVE List by registering on the homepage of the MVE (http://mve-liste.de). You will find the login button on the left. After the login, you will find a new menu button saying "Tagungsanmeldung" in the navigation menu on the left. Please click this button. Now you can fill in the form to register for the conference. Under the item "my bookings" you can change or complete your registration at any time. You can also change your conference submission (presentation or poster). If you have any problems, please use the contact form on the left.
The conference will be held in German and English. Your presentations and posters can thus be in either English or German. If you wish to give your talk in German, your presentation slides may be in English, and vice versa. Even if you intend to give your talk in German, it is possible to submit your contribution in both English and German, so that internet search engines can find and display your submission.
Submission deadline: July 15, 2018

Senckenberg Research Institute and Natural History Museum Frankfurt
Senckenberganlage 25, D-60325 Frankfurt am Main, phone +49 - (0) 69 - 7542 0, www.senckenberg.de
Human Ethology Film Archive, Anke Kuper, phone +49 - (0) 69 - 7542 1298, akuper@senckenberg.de
Conference room:
Arthur-von-Weinberg-Haus, "Green Lecture Hall", Entrance: Robert-Mayer-Str. 2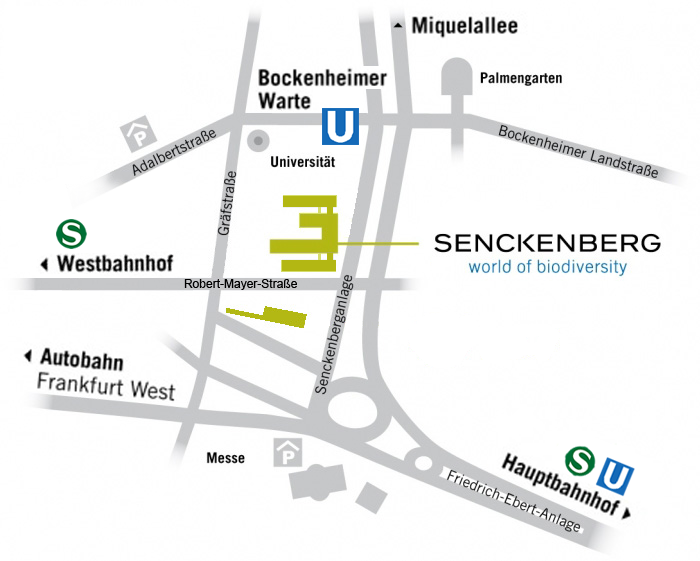 Google Maps

Public transport in Frankfurt

Travel information RMV
S-Bahn (suburban train) lines S3, S4, S5 and S6 - "Westbahnhof" station (12 min. walk)
U-Bahn (underground train) lines U4, U6 and U7 - "Bockenheimer Warte" station (5 min. walk)
Straßenbahn (tram) line 16 - "Bockenheimer Warte" stop  (5 min. walk)
Bus lines 32 and 36 - "Bockenheimer Warte" stop (5 min. walk) and line 75 - "Senckenbergmuseum" stop
From the central railway station "Hauptbahnhof":
Take the U-Bahn (underground train) line U4 to "Bockenheimer Warte" station (2 stops, 4 min.)
Taxi call +49 - (0) 69 - 733 030 or +49 - (0) 69 - 3650 65000 or +49 - (0) 69 - 4800 8928
taxi stand at "Bockenheimer Warte"

By Car
Arriving from the South or East:
Drive across the motorway-junction "Frankfurter Kreuz" till "Westkreuz Frankfurt", then take the motorway A648 (towards "Stadtmitte" - B8/44) until Frankfurt Fair (Messe), turn left in the roundabout (towards "Ginnheim / Eschersheim" - B8/40). You will find the museum after 500 metres on the left.
Arriving from the North or West:
Drive across the motorway-junction "Nordwestkreuz Frankfurt" on motorway A66 (direction "F-Miquelalle / Stadtmitte"), turn right before the end of the motorway (towards "Hauptbahnhof / Messe" - B8/40), and follow the course of the street "Zeppelinallee". You will find the museum after 2 kilometres on the right.
Parking
Parking garage "Congresscenter Messe Frankfurt" (Maritim Hotel); Theodor-Heuss-Allee 3-5
Parking garage "Messeturm"; Friedrich-Ebert-Anlage 49
Parking garage "WestendGate"; Hamburger Allee 2

Due to construction works, there are no marked disabled parking spots at the moment. Please contact us before visiting the museum. We will organize a parking spot for you. A wheelchair is available if needed. Please contact any of our staff.
Guide dogs are allowed in the museum.

Due to a great demand, hotel rooms in Frankfurt should be booked as soon as possible!
Some hotels offer early bird discounts, some update prices on a daily basis. Low-priced hotels and private B&B offer rooms from about € 35,00.
If requested, we can provide a list with more hotels. Please contact: akuper@senckenberg.de
NB: The city of Frankfurt charges a tourist tax for overnight guests on private trips (€ 2.00 per day). The tax is not charged for business trips, so please state your business address and reason of stay when booking the hotel.

Hotels within walking distance
Art-Hotel Robert Mayer
Robert-Mayer-Str. 44, 60486 Frankfurt a. M., phone: +49 (0) 69 - 970 9100, info@arthotel-frankfurt.de, www.arthotel-frankfurt.de  
Single room from € 86,00, Double room from € 97,00, Weekend: Single room: € 57,00, Double room: € 72,00, rates per night/room, excl. breakfast; 1 breakfast € 7,00
Fleming's Hotel Frankfurt - Hamburger Allee
Hamburger Allee 47-53, 60486 Frankfurt a. M., phone: +49 (0) 69 - 201 7410, frankfurt.hamburgerallee@flemings-hotels.com, https://www.flemings-hotels.com/hotels-residences/frankfurt/flemings-hotel-frankfurt-hamburger-allee/hotel
Single room from about € 86,00 incl. breakfast, rates at request
Hotel Corona Garni GmbH
Hamburger Allee 48, 60486 Frankfurt a. M., phone: +49 (0) 69 - 77 9077, info@hotel-corona.de, http://www.hotel-corona.de/
Single room from € 69,00; Double room: € 89,00, rates per night/room, incl. breakfast
Novum Hotel Imperial Frankfurt
Sophienstraße 40, 60487 Frankfurt a. M., phone: +49 (0) 69 - 719 158 80, frankfurt.hamburgerallee@flemings-hotels.com, https://www.novum-hotels.com/hotel-imperial-frankfurt
Single room from € 46,00, Double room from € 54,00, rates per night/room, excl. breakfast; 1 breakfast € 10,90 - 12,90
aCasa Bed&Breakfast Gästehaus
Varrentrappstr. 49, 60486 Frankfurt a. M., phone: +49 (0) 69 - 97 98 88 21, info@hotel-acasa.de, http://www.hotel-acasa.de/
Single room from € 59,00, Double room from € 79,00, Weekend: Single room from € 49,00, rates per night/room, excl. breakfast; 1 breakfast € 6,00 - 9,00

Hostels
Youth hostel "Haus der Jugend" (DJH)
Deutschherrnufer 12, 60594 Frankfurt a. M., phone: +49 (0) 69 - 6100 150, info@hellofrankfurt.de, http://www.jugendherberge-frankfurt.de/en/sleeping/prices/
Dorm from € 20,00, Single room € 43,00, rates per Person for DJH/HI-members, non-members € 3,50 extra per night, incl. breakfast
Frankfurt Hostel
Kaiserstr. 74, 60329 Frankfurt a. M., phone: +49 (0) 69 - 2475 130, info@frankfurt-hostel.com, http://www.frankfurt-hostel.com
Dorm from € 25,00, Single rooms available, rates per Person, incl. breakfast